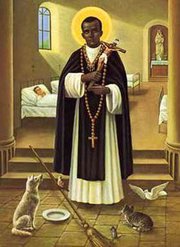 Welcome to Black History Month! Black History month started in 1976 and was expanded from what used to be a Black History week. Black History month might sound too many as a month which doesn't exactly connect with the Catholic Church in America. However, one might be surprised to hear that, according to the National Black Catholic Congress, nearly 3 million Catholics of African descent live in the United States alone. Furthermore, some notable saints such as St. Katherine Drexel have diligently supported noble causes of African Americans and are remembered for it during Black History month. Black Catholics make up a large part of the Catholic Church in America and I would like to celebrate and remember the life of the first Black American saint, St. Martin de Porres.
             Saint Martin de Porres was, according to saint.sqpn.com, the illegitimate son of a freed black slave. At age 11 he became a servant of the Holy Rosary Dominican priory in Lima, Peru. In 1603, after years of begging and catering to the sick, he would become a Dominican brother after his superiors dropped a stipulation which stated that, "no black person may be received to the holy habit or profession of our Order." After becoming a brother, St. Martin de Porres established an orphanage and children's hospital for the poorest of the young. He is remembered for nursing stray cats and dogs to health as well. Saint Martin de Porres is attributed with many miracles through his intercession including raising of the dead. His feast day is November 3rd.
             Saint Martin de Porres is clearly a powerful figure in Black American History and should be celebrated by all Catholics during Black History month. We can honor him today in many ways. Perhaps by giving a pet medal to our animals and praying to St. Martin de Porres for his intercession in keeping our pets healthy. If you don't have any pets then maybe you can volunteer or donate to a children's hospital in honor of the donation of time, love, energy Saint Martin de Porres gave to needy children. Saint Martin de Porres is just one of many notable Black Catholics to celebrate during Black History month. Which Africa-American saints would you like to recognize for their contribution to the church during Black History month?